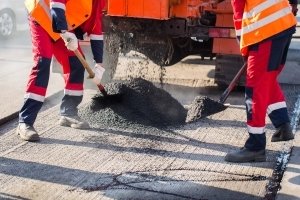 Asphalt-covered area serving as a parking zone at your place of business is the `welcome carpet` for potential and every-day clients. And it often creates a lasting impression. Make all your clients feel good by maintaining a clean and comfortable exterior. That will guarantee the most positive reflection of the business you have worked so hard to create. Both the building and landscaping must look visitor-friendly, so make sure your parking lot has no potholes, faded strips and other signs of deterioration.
However, sooner or later, every asphalt parking lot becomes too worn-out for common repair and may require a partial removal, or even the most comprehensive reconstruction. The extent of considered projects is usually determined by current asphalt condition, as well as your budget. And there may be a dire need for mill & overlay, while sometimes a sole overlay will suffice.
Commonly, when your asphalt lot needs an immediate service, it's obvious. But how to decide if your parking lot requires milling & overlay or just needs resurfacing with a brand new asphalt? To figure it out, you can call for an expert paving contractor. At Mid Atlantic Asphalt, we are covering Maryland, Washington D.C. and Delaware. You can easily have our experts come out and provide a qualified survey and your project quote in no time. Are you hesitating anyway? Below in the article, we will try to clear these issues up.
OVERLAY (SOLELY)
Optionally known as pavement resurfacing, overlay is often used as a fairly good solution for fixing minor to mid-range linear and alligator cracks, rifts, or potholes emerging in your asphalt parking lot. It means applying a new asphalt layer over the current one. Obviously, if the existing asphalt and its subgrade slab are both in acceptable condition, you will not have to do milling first. However, our paving experts may still advise of some other pre-overlay preserving works. For instance, the most severe cracks and holes must be cleaned and filled first.
It's a common practice that a fresh asphalt layer is adjusted within 1.5 – 2 inches in depth. However, in case of poor drainage, or if your current pavement shows too many weak spots, we may prefer applying sm even thicker new layer of up to 3 inches. As soon as the new overlay is completed, your parking lot will be ready for striping and markings.
Thus, asphalt resurfacing is a well-proven and smart equivalent to the mill & overlay technique. Overlay's are less expensive and can be completed in just days, not weeks. At Mid Atlantic Asphalt, we always view most of the objectives as candidates for resurfacing, with no strict precondition for milling. Of course, given that we are dealing with a stable base and sound pavement structure.
MILL & OVERLAY
If your parking lot shows strong subgrade deficiencies, the asphalt pavement and sometimes a part of the base material may need removing. It commonly happens when the asphalt layer becomes riddled with potholes and severe cracks, or if the base slab gets too deteriorated, usually by standing water. Milling may also be required when your parking lot has been already re-paved over the years, as several asphalt layers decrease the curb heights leading to water drainage problems, as well as trip hazards to clients or customers. Also, the pavement may de-laminate from the surface below, severe reflective cracks or even their networks will get multiplied.
Precautions use of milling allows to get rid of damaged areas and shave the pavement to the customized depth – with minimal timing, noise, and disruption, as it eliminates the necessity for pavement excavation. As soon as grinding and milling works are fulfilled, and the excessive particles are swept up, your parking lot will finally become ready for a fresh resurfacing layer.
The experts at Mid Atlantic Asphalt have different milling options: we can get rid of single or numerous layers of old and fully deteriorated asphalt allowing to get the surface re-paved over the currently milled one. Or sometimes, when the circumstances dictate, we can increase your base by leaving milled asphalt in place, grading and rolling it, and then paving over it.
Though mill & overlay procedure is more labor intensive than a sole overlay, it is still quite reasonable and budget-friendly, particularly if weighed against the most time-consuming and hefty full-depth repairs. However, if your parking pavement has finally come to the end of its lifespan, total overhaul and replacement will be inevitable.
MID ATLANTIC ASPHALT: PARKING LOT REPAIR AND RECONSTRUCTION
Mid Atlantic Asphalt has the experience and understanding to assist you in a well-formed solution. We guarantee the most reasonably priced asphalt pavement repairs as a compromise between what and when should be done to restore your parking lot, while extending its service life at the same time. Commonly, well maintained and cared for asphalt parking lots last a life cycle from 10 to 15 years. Conversely, those receiving too little maintenance will get their life span reduced to just five years or even less. Contact us at (410) 999-1263.