It is undisputed that the right way of running business lies through increasing points of good public reflection, reputability, as well as safety, and reliability of your construction project. It also includes the very safety of the people, long-lasting trials regarding costly insurance claims as well as increased premiums for tomorrow's foundational reconstruction works. Proper maintenance also concerns the customer/resident satisfaction, as cracks, heaving concrete sidewalls, faded parking stalls and paving markers will bring nothing but disservice or even harm because of all trip hazards caused by pavement deterioration. This is why it is extremely important to pay attention to asphalt or concrete installation maintenance works and repairs.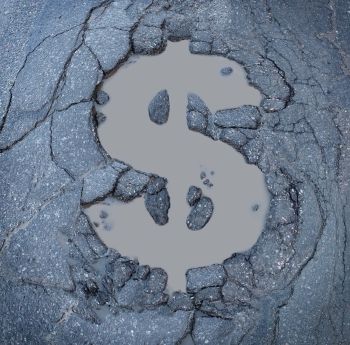 Сonstruction or reconstruction of asphalt roads, parking lots, concrete sidewalks, gutters, etc used to be a priority for property owners. But today's new focus is on preserving and maintaining actual pavement surfaces. As a result, our experts name three types of relative maintenance options:
Emergency maintenance: taken during an emergency situation that needs immediate repair works (e.g. potholes that may cause serious injury for walkers and bike riders, as well as severe damage to vehicles)
Corrective maintenance: performed in the case of asphalt pavement deficiency, includes heaving concrete sidewalks, filling faded parking stalls, etc.
Preventive maintenance: is a strategy of improving or extending the functional life of the layout, like surface treatments that are much more affordable. It's a wise option aimed at preventing progressive hazards and reduce the need for the most expensive service activities
This brief summary of all-class standard ratings regarding maintenance or repair works needed for asphalt and concrete (starting from failed and very poor to good and excellent layout conditions) provides a perspective on the variety of procedures necessary for keeping asphalt pavement in top condition.
CONCRETE
Rating 1-2: pavement failure, total overhaul and complete reconstruction required
Rating 3-4: moderate to severe faulting damage, needs extensive rehabilitation
Rating 5-6: early signs of faulting, joint spalling and corner cracks, partial depth surface repairs needed
Rating 7-8: the earliest first signs of cracking or scaling, routine maintenance works recommended
Rating 9-10: fresh pavement, or recent concrete rehabilitation, no actions required
ASPHALT
Rating 1-2: loss of surface integrity, alligator cracking and potholes, needs total base reconstruction
Rating 3-4: multiple cracking, erosion, occasional potholes, requires reconstruction prior to major overlay
Rating 5-6: moderate to slight raveling, first signs of cracks, needs sealcoat or thin non-structural overlay
Rating 7-8: occasional tight cracks and traffic wear detected, little (crack filling) or no maintenance required
Rating 9-10: new construction or the recent overlay looking like new, no service works needed
MAINTENANCE
Here is an overview of the most demanded and recommended, yet minor and cost-effective maintenance repair works offered by our team: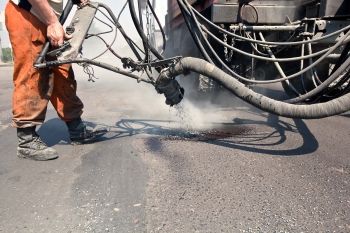 Concrete grinding and patching with DUO patch (twice a year) is a good concrete practice to repair the surface. DUO patch delivers extreme durability in parking and roadway applications resisting strong loads, pressure, and abrasion
Crack filling with CrackMaster Supreme (annually) stands among the finest sealcoating materials, ideal for any crack filling applications, also it is the most economical relevant option available for the time being
Pavement sealer (every three years) is recommended by our specialists for all asphalt-based layouts as a protective coating that extends the lifetime of pavements
Re-striping with Sherwin Williams traffic paint (twice a year) created for parking areas and well-known as top-quality and long-lasting marking solution for any project you choose
If there is a need for more complex corrective maintenance to avoid further layout damage, the following measures are recommended most: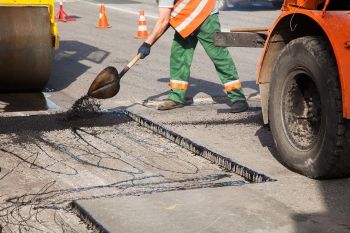 Asphalt patching. If you are getting by without crack filling in timely manner, cracks may become wide enough to need patching, as multiple cracks in the pavement edge or wheel path will inevitably deliver an urgent need for strengthening the overlay, or even too draining complete reconstruction
Asphalt replacement with Milling and Overlay is required in case of absence of regular maintenance works, which caused closely spaced and transverse cracks as well as other type of erosion. It involves the necessity of in-depth patching and reworks before the major overlay. The purpose of milling is to extend the lifetime of the overlay
Remove and replace sidewalks and gutters is needed when concrete curb and gutter become separated from the main pavement or settled along it. When they come far enough to interrupt drainage, you will have to get them replaced
As a result, many pavement treatments come within a comprehensive pavement maintenance program. Nevertheless, preventive maintenance should be implemented in order to keep the pavement intact and prevent the most labour-intensive and costly works. Thus, when it comes to prolonging the life of the pavement, preventive procedures are considered to be more cost-effective measures compared to waiting until the property is totally distressed up to requiring an overhaul.
The extended search for a reliable contractor is a common reason for delays in asphalt maintenance. Finding the service, which would offer a satisfying balance of price and quality is a time-consuming process. However, if your property is located anywhere in Maryland, Washington D.C. or Delaware, then you can proceed immediately by contacting our company and using our 45 years of expertise in asphalt and card court construction and repairs to for your benefit.