Do you want to rise above the competition even higher? Nothing makes your business stand out better than its curb appeal, which creates a safe and customer-friendly environment. That gives a good peace of mind to every visitor and potential buyer – the supervisor here emphasizes safety and serviceability. And almost everyone passing by will be impressed by each single point and every detail bearing the very special sign of yours.
No doubt, your parking lot or driveway are the first thing seen by the public. And it must look spick-and-span – from effective layout and paving, to quality striping and contrasting signs. Fairly good and visible traffic painting makes your parking lot full of advantages. While improving the flow of traffic itself, having good markings will bring order and safety to every step and wheel. Obviously, all of your patrons expect your lot to be easy to navigate. And that means a true perfectionism in every item, such as well-marked crosswalks, parking stalls, arrows, stop bars, pickup and boarding areas, handicapped signs, loading zones, etc.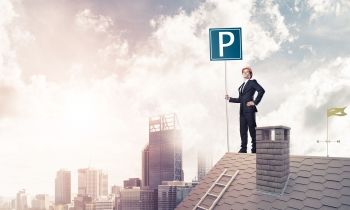 It goes without saying that any road construction, renovation, or finishing touches should be completed by an experienced and trustworthy contractor. Striping and markings are no exception – both of them are far more than the finishing touches. That's why your parking lot striping and markings should be clear, resistant, and capable of enduring even harsh weather conditions. In addition, proper markings should be compliant with local and state laws – that needs a clear understanding of codes and provisions for thickness, color, reflection and even the location requirements.

Are you considering to breathe a new life into your parking lot? Do you have enough foresight to receive the maintenance in a timely manner? Or maybe you just want that crazy traffic flow to finally get fixed? To help you with these issues and much more, construction experts at Mid Atlantic Asphalt are always at your service! As it was already mentioned, your parking lot and driveway must look like a doormat saying `welcome` to all visitors and potential clients. So there is nothing better than giving them a brand-new look featured with the fresh markings.

At Mid Atlantic Asphalt, we've got the most beneficial Striping & Marking contractor to get your parking lot improved in the best way:

Should your parking lot need more cost-effective solutions to accommodate as many vehicles as possible? No worries, getting a fine layout and right stripping for your parking lot is a well-formed decision!
Organizing Your Traffic Flow
Up to proceeding with stripping, you should examine whether it needs to be expanded with special spots (e.g. parking areas for your visitors, clients, working staff, and disabled persons). Hiring pros will allow you to match your goals with the most practicable and affordable ways of implementation.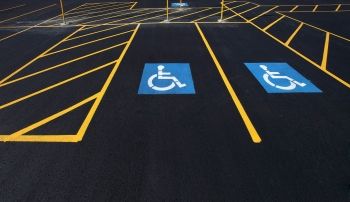 Since July 1990, every property owner should be meeting the legal requirements of the ADA (a.k.a. the Americans with Disabilities Act), disregarding the business scale and capacity. Now it's necessary to provide the required number of parking stalls, which are accessible for the handicapped persons, as well as utility zones suitable for vans. And any commercial or even large-scale residential property must be compliant with the ADA requirements ahead, in order to be granted the official permission and be finally brought to operating.

should be the best way to manage that – it's easy to install and provides double-way traffic options. Sometimes, however, the circumstances dictate the preference for sloped stalls. They offer a smooth and more controlled drive, as well as a simpler maneuvering experience, thanks to their herringbone design. And this option is quite popular among many owners. That's why adjusting the right balance may become a rather challenging task that needs the assistance of professionals to turn out correctly.
STRIPPING SHOULD ALWAYS CORRESPOND WITH THE PURPOSE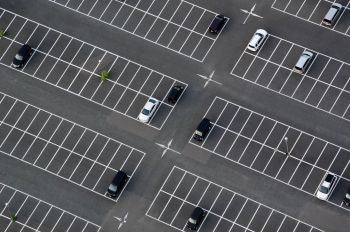 Sometimes putting a new layer of paint over your current stripes will be enough to get a fresh look for your parking lot. While the unprincipled contractors may insist on some extra works trying convince you of your properly direly requiring them, the true experts will always provide only fair estimates and the right action-plan.
It means getting the most timeworn lines of the parking lot renewed with a fresh seal coating, with painting new stripes either wherever it's necessary, or requested by the owner.
Creating brand-new layouts
It's very important to understand and know for sure when the parking lot needs a completely new layout. Most commonly, it comes as a redesign procedure, or a part of construction works for the new location.
BENEFIT FROM A-1 STRIPING & MARKINGS FOR YOUR PARKING LOT
At Mid Atlantic Asphalt, we are focused on meeting your objectives in the most efficient way. We apply only top-quality products and use the most advanced technologies. We've got the experts equipped to deal with the most specialized signs and markings designed for any purpose. Since we work with only environment-friendly and use-proven paints, we guarantee the best performance for your newly-striped and marked parking lot. We never consider complete pavement marking to be merely the end part of the maintenance. Our ultimate goal is to make sure that all works are completed properly, while your parking lot stands fine, efficient and convenient for the public. And to succeed in this doing, we always provide the complete range of preparation works – starting from the surface cleaning with a broom or power blower, and ending with removing your seasoned stripes wherever it is applicable.