It is essential to hit the right track and follow an individual approach when introducing the magic of the game to children. Tennis is a sport that implies quickness, excellent reaction skills, and fast decision-making. For the little ones, however, entertaining purposes are the number one priority. And there is a reason. According to the vast majority of psychological studies, an enjoyable pastime can entail the kid's encouragement and full involvement. Instead of stuffing annoying rules into their heads, wrap your mind around what exactly puts a smile on a child's face. Once you determine the stimulating factor (even if it is just bouncing a ball), you will be able to focus on it when a kid gets bored or tired. Don't forget about taking breaks to cool down and drink water as many times as a child needs. Some cooler racks will always come in handy. Such attention to minute details will result in the new burst of energy and further effective guidance.
DO NOT FORCE YOUNGSTERS TO WORK OUT TO THE POINT OF EXHAUSTION
Bringing small children to a full-size adult court is a common mistake. Remember, a kid is a newcomer to the sport. If you are 6 years old, you are not supposed to run 80 feet while playing, right? Therefore, dimensions are of great significance. Pay attention to the length and the width of a tennis court when taking into account kid's age and physique. The aim doesn't lie in forming associations of the sport with severe fatigue!
RIGHT EQUIPMENT IS A MUST AT THE BEGINNING
To minimize a risk of injuries and traumas, special kid-sized goods are widely used. For the little ones, standard tennis racket and ball may be too heavy to handle and too fast to return. So, when choosing a racket, make sure it meets the requirement of length (no more than 23 inches) and distance to the ground in holding position (2 inches). Also, these rackets are more lightweight to encourage the development of the unique tennis technique and skills. Improper equipment, on the contrary, suppresses the children's desire to follow in tracks of Andre Agassi and Roger Federer.

As for the balls, they are designed to be larger and bounce half the height of traditional ones. Due to the low compression, young players can easily swing and hit a ball. Safety is the another distinctive feature. Among the most common materials which are used for such balls are foam and felt. It results in the initial easiness and constant comfort in playing tennis. Consequently, beginners are offered lots of fun along with never-to-be-forgotten experience.
TENNIS NETS AND COURTS
There are various specifications for a venue and a stretched net according to the age of a kid. Whether it is a grass, clay or hard surface, court dimensions should correspond to the players. With the aim to promote tennis worldwide by engaging children, international organizations have offered playing at smaller venues. Thus, young ones will be able to serve and score right off the bat. The following stages are considered to be the topmost in tennis:
SURFACE CONDITION MAKES A DIFFERENCE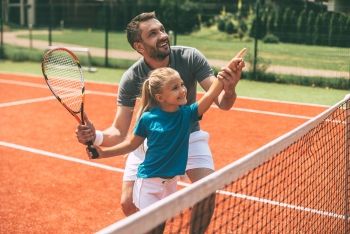 For children from 4 to 6 years old, an option is the first red stage. Being 36 feet long and 18 feet wide, the court is the ideal starting point to master basic coordination skills. It is not available for doubles. A net height is 2 feet 9 inches.
The second red stage is suitable for the age of 6-8. Modified balls with a quarter of professional ones' compression allow for playing the game at own pace. All other dimensions coincide with the previous proportions.
The next level or progression is the orange stage. It is the so-called medium-sized court for under 10-year-olds. Its length and width are equal to 60 and 21 feet respectively. However, in case of doubles, a venue is transformed into 27 feet wide. The net is the same as in professional adult tennis (3 feet at center and 6 inches more at posts).
The last stage is colored as green. Children aged from 11 are entitled to develop skills here. At the stage, all dimensions are standard – 78/27 feet. Playing on this court is a real test of endurance. Keep in mind that tennis players cover, on average, 3 miles during a single match!

If you strive to introduce the big world of tennis to kids, such woes as cracks, discoloration, delamination and worn-out markings may rain on your parade. Obviously, no court in the world is impervious to weather and human impacts. As time goes by, it loses its durability in any way. It is highly recommended to get rid of any debris as well as puddles as soon as possible. The reason is that water penetrates into lower layers leading to the court disintegration. As a result, the formation of potholes is also inevitable. In addition to the odious view, an uneven surface may cause traumas. It is rather dangerous to play at such a venue.

These courts are in need of extensive repairs. Mid-Atlantic Asphalt is responsible for carrying out any maintenance and applying various coatings, including an acrylic one. Due to our state-of-the-art equipment and proficiency, we can change even the level of your court cushioning. Apart from construction and preservation projects, we are well-qualified to install other structural units. Retaining walls, patios, walkways, fencing, and drainage systems are only a few of the services Mid-Atlantic Asphalt provides. Keep in mind that youngsters should be taught to play tennis on a court in mint condition. Such an experience will dramatically spark their interest in the sport.