It is always exciting to install an indoor or outdoor tennis court at your facility. The fun begins with choosing all of the awesome features for your new court area such as the fencing system, court surface, lighting, and shade shelter. Later on, you can outfit your court with all the cool accessories and equipment that are must-haves. However, as soon as you finish the first game and celebrate your first victory, you might also realize the important need to take care of your court before it starts to appear worn down. If you wish to keep the court appealing for a long time, you need to conduct proper and regular maintenance. Normal repair and upkeep are part and parcel of regular use. All you need to do is to be mindful of the inspection process while taking full advantage of the new facility in which you have enthusiastically invested. In order to continue experiencing the amazing quality of gameplay that you enjoyed on day one, you need to take the following measures to extend the lifecycle of your tennis court. Moreover, making repairs at the first sign of deterioration is much more cost-effective than letting it decline to the point of no return. For your better understanding, let us take a look at the basic procedures required for the maintenance of any tennis court.
BRUSHING AND REGULAR CLEANING
One simple step is to sweep the court's surface to remove any dirt, leaves or debris. Use a soft bristle broom to perform this task. Meanwhile, check for accumulation of mold or mildew growing in the corners and shaded areas. For indoor courts, an annual cleaning (with the use of mild detergents and soft mops) should be scheduled. Also, court surfaces require frequent vacuuming or sweeping to prevent particles, (such as decaying matter, and spilled drinks and food), from propagating fungal growth. For removing stains, you can mix a cup of chlorine bleach with a gallon of water. Apply it to the affected areas with a soft brush using circular motions until the discoloration fades. Then rinse the solution off generously with a garden hose. While cleaning and performing your maintenance tasks, be conscious to only use the right equipment, so that, in the end, you do more good than harm to your court's surface.
RAIN
Rain is a common natural method used for wet cleaning courts. However, although wet cleaning is important for the court's maintenance, you should avoid leaving puddles on the court's surface. Dirt gathers in the puddles and after wet dirt dries, it creates stains. Also, when piles of leaves and other debris collecting in standing water dries, it forms scabs and rough patches on the court's surface. Plus, if the water remains on the surface for a long period of time, it will eventually affect the durability of the surface--breaking it down at a much faster rate. This is especially true for acrylic tennis courts.

Keep safety in mind: Low spots or puddle areas form significant trip hazards if they are sunken in enough, thus affecting the players' footing. Rough spots similarly trip players up interrupting the game or causing falls.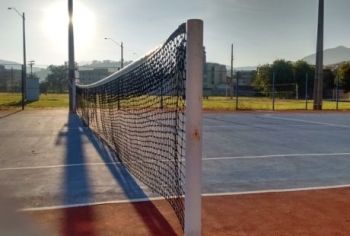 PREPARING THE TENNIS COURT FOR THE WINTER SEASON
When winter approaches, you ought to give extra care to your court's maintenance. Because leaves are more likely to fall in autumn, you will need to be more vigilant than ever to remove them and all other organic material from the court; otherwise, it will cause mold, mildew, and stains to form on the court's surface more quickly than you would experience in other seasons. Then you must fix all the holes and cracks on the court's surface. If you don't, the snow and ice will fill each one and make them expand, resulting in even bigger issues than before.
 
A PROPER DRAINAGE SYSTEM
One of the most crucial aspects of a tennis court is a well-constructed and well-maintained drainage system. A major cause of court damage is excess water sitting on the surface and (less noticeably) flowing beneath the court. A proper drainage system helps to divert water, keeping it a safe distance from the court. The best way to ensure that your drainage system is working properly is to inspect it from time to time. Look for leaks or blockages in the system that can cause silent problems only noticeable when it is too late.
SOME RULES OF THUMB
To enhance the effectiveness of all these measures, and to prevent further damage, post informational banners, and signs around the court. Place these directions around the court primarily at entrance points. Emphasize that these are the 'court rules'. Examples of the basic rules are as follows:
Only non-marking tennis shoes are allowed on the court's surface.
No skateboards, bikes or rollerblades allowed.
No drinks, food or chewing gum allowed on the court's surface.
No dragging benches, chairs or other items on the tennis court surface.
Only chair legs with underneath protective pads are allowed.
Only authorized staff vehicles are allowed on the court.
In Conclusion A beautiful tennis court is a fantastic luxury, so after paying for high quality construction, it only makes sense to use these simple maintenance techniques in a consistent manner to provide you with years of impeccable play. To maximize the longevity of your tennis court, repair the minor problems as soon as they arise, and prevent the court from losing its original luster. Now that the ball is in your court, make memorable every match point! Mid Atlantic Asphalt offers three levels of annual maintenance, which are performed every spring to ensure that your court is kept in great shape.