If you are a homeowner's association (HOA) manager, your core responsibility is to take good care of the property you are responsible for. Along with arranging for landscaping of your property grounds, coordinating trash removal, keeping all financial records current, and scheduling homeowner's meetings, you also need to properly maintain all commonly-used structures. Maintaining parking lot pavement and concrete is a part of HOA managers' duties. However, not every HOA manager is aware of how to do it and what things should be paid attention to. Here are some things that will help to keep your HOA parking lot in perfect condition:
#1. PAVEMENT MAINTENANCE PLAN
It's not a secret that even perfect asphalt pavement does not last long without a proper care. Even though asphalt is a durable material, it cracks and weakens over time. For these reasons, if you don't want holes and cracks on the roadways, walking trails, and sports surfaces, you should prepare a pavement maintenance plan for all your paved surfaces. A parking lot is not an exception. Keep in mind that there is no standard maintenance plan template for everyone. It has to be developed specifically based on the size, condition, and attributes of the property you manage. A well-maintained parking area can last for at least 15 years.
#2. REGULAR CLEANING AND SWEEPING
Regular sweeping and cleaning will not only improve the look of your parking lot, but also help you to reveal needed repairs. Excessive dirt and debris create a good condition for standing water that weakens the surface and causes deterioration. Also, it is necessary to regularly check if there are any oil or gasoline stains on the pavement as chemicals ruin asphalt and concrete. If you notice any stains, remove them immediately. It can be done with professional pressure washing systems or some common household cleaning solutions.
# 3. CRACK SEALING
Because of deterioration, which is caused by continued traffic use and the elements that asphalt is exposed to, various types of cracks (reflective, block, edge) often become inevitable. Also, when water penetrates through the cracks, it weakens and damages the asphalt base. It's essential to pay proper attention to cracks to keep out water, sand, dirt, and stone. Effective crack sealing is the number one preventative measure that helps to extend pavement life and delay resurfacing. Depending on the type of crack and equipment available, maintenance workers will use hot-applied or cold-applied sealants to help you avoid future unnecessary, expensive repairs.
#4. SEALCOATING
Another important thing that prolongs the life of an asphalt surface is sealcoating. It's a protective layer applied to pavement surfaces. It is aimed at protecting against oil, gasoline, salt, water and ultraviolet rays. The sealant is a dark jet-black substance that will make your asphalt look like new. Sealcoating should be a part of a parking lot maintenance plan. For best results, it is necessary to schedule it every 2 or 3 years.
#5. CONCRETE REPAIR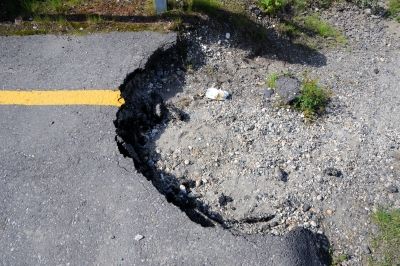 Crumbling and cracked sidewalks never look attractive. Besides, they are also a tripping hazard for people. For these reasons, it's important to inspect sidewalks from time to time and arrange repair works whenever they are needed. Crack filling, sealing, patching and waterproofing will make concrete look better and extend its life.
#6. MARKINGS AND STRIPING
Bright appropriate markings on a parking lot make it easier for residents and visitors to use it. They also make a parking space look nice and fresh. Clearly marked entrances, exits and pedestrian walkways reduce the risk of possible accidents as well as your legal liability.
#7. RESURFACING OR COMPLETE REPLACEMENT
Even with good maintenance, there will come the time when a parking lot will require resurfacing or even a complete asphalt replacement. Before you decide to do this, keep in mind some important information. The best time for investing in resurfacing is spring as asphalt is temperature and weather sensitive. The best temperature for laying asphalt is around 70 F. Also, make sure that there will be a few more warm days in a row before you schedule asphalt resurfacing or replacement. This will help to avoid future "joints" and "seams" leading to asphalt failure.
#8. RELIABLE PAVEMENT PARTNER
When it comes to a proper planning of parking lot maintenance, it's crucial to find the right contractor who would design an appropriate pavement maintenance plan together with you and provide you with concrete and asphalt experts to complete the projects when necessary. Sometimes, standing water, cracks and potholes may appear out of nowhere. A reliable and responsive partner will help you to cope with such emergencies quickly and effectively. Mid-Atlantic Asphalt has over 45 years of experience in the asphalt paving business. We offer cost-effective solutions to asphalt and concrete problems for our clients. We provide outstanding services and superior quality during every step of a project. If you wish to extend the lifespan of your parking lot, we will be happy to do all the necessary preventative projects for your asphalt pavement or make a complete replacement/overlay if required. Having a hard time trying to understand what needs to be done? Rest assured, we will help you to determine what type of repair will meet your needs and budget. For more information on Mid-Atlantic Asphalt contact us by e-mail: info@midatlanticasphalt.com or phone: (410) 999-1263.