Tennis is believed to have originated in northern France in the 12th century. Nowadays, this game is played around the world by thousands of people. This sport is considered to be the most popular in Australia, France, and New Zealand. As you may already know, tennis is played on various surfaces, including clay, grass, asphalt, concrete and others. The type of court affects the game style that tennis players should adopt. Some court types are good for the specific playing styles, while others appear less effective, and may even cause some troubles. Tennis court owners should know about the pros and cons of different court surfaces so that they can reasonably plan budgeting and maintenance. When deciding on the tennis court, you should find out how different types of surfaces alter the behavior of the ball and the style of the tennis player. As practice shows, some courts require a lot more care than others to remain in good condition — each type of surface provides its own benefits and offers specific challenges to players. So, let's go straight to discussing pros and cons of each variant of court surface.
Why Play Tennis on Grass Courts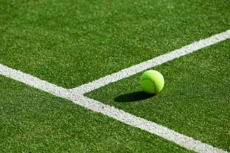 The first thing that comes to mind when thinking about tennis court with grass surface is prestigious Wimbledon Championship. The grass is the fastest type of all courts because of its slippery surface. Grass tennis courts reward players with both power and speed. Even though grass tennis courts are appreciated for soft surface and fast pace, these courts often fall out of favor because they are challenging to build and even harder to maintain. They must regularly be watered, as well as mowed because they are susceptible to damage from play. Grass court main features: fast pace, soft surface, high maintenance.
Why Play Tennis on Clay Courts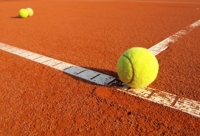 Red-colored clay courts are usually associated with the French Open Championships. Clay tennis courts are very popular because of exceptional characteristics they provide. These courts are the slowest surface in tennis: the clay slows down the ball and produces a higher bounce as a comparison to other courts. Another advantage of clay tennis court is that it's ready for action straight after a rain — the water is quickly absorbed through the surface and into the base. While clay courts are relatively easy to construct and cheap to install, they are costly to maintain. Clay tennis courts require constant care as well as the regular use of water. Water keeps the clay court moist, playable and structurally sound. Clay court main features: slow pace, soft surface, high maintenance.
Why Play Tennis on Sport Courts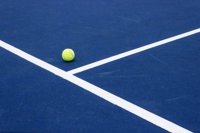 In the US tennis is usually played on sport courts. Hard court is a court made out of a concrete or asphalt base that is coated with an acrylic coating system or other materials. This type of court surface is the most commonly available as it's easy to maintain. The hard court is considered as a suitable surface for all types of tennis players. It provides a good compromise between the clay and grass court. On the hard court, the ball travels at speed faster than on a clay court but slower than on grass court. The bounce of the ball is high and very predictable as the surface is very flat. sport courts range from fast to slow speeds depending on the quantity of sand mixed into the paint coating. Another advantage of hard court is that you can customize its color and speed to suit your individual preferences. One of the few drawbacks of the sport courts is that they have tough surface. That is why falling on it can appear very painful. Moreover, hard fields reflect heat that makes them uncomfortable in high heat environments. Hard court main features: medium-fast pace, hard surface, low maintenance.
TENNIS COURT MAINTENANCE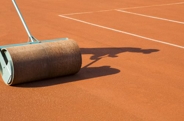 Whether you own a grass, clay, asphalt or concrete tennis court, you should keep it in the best condition. Keep your tennis court clean from different debris such as stones, leaves, twigs, and dust. Make sure your court is free from cracks that might hold water when it rains. Prevent your court from the beginnings of mold and fungus on the surface as well as from bubbling and blistering.
WRAPPING UP
Summarising all the above, we can draw the next conclusions. Nowadays, grass tennis courts are rare to find. Also, they are the most expensive of all courts. Grass tennis courts are best suited for serve-and-volley players, not rushers. And when it comes to clay courts, they are the easiest ones on the body. That is why clay courts are so common among experienced tennis players. Hard tennis courts have the best bounce. Their surface dries quickly after rain, and they are very easy to maintain. Choose the one that suits your needs best and start enjoying the game!