Pickleball has gained much popularity lately, particularly through the recent years. Currently, it's seen among the fastest developing sports in the USA. Today, the majority of recreation departments and parks across the USA have already put this 50 year old game into their sporting programs. But what does pickleball actually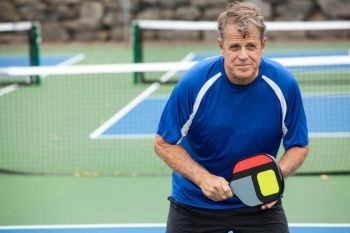 stand for? Why has it become so attractive for people? How long this trend expected to last for? After all, is this sport worth adding to your current tennis court? You might have tried pickleball at school, with a friend, or at least seen it online or on TV. But what if you have never heard of pickleball before? You may be missing one of the trendiest and fastest growing sports across the globe, which has actually been played for more then five decades. That is interesting for active players, as well as players trying pickleball for the first time.
CASE #1 – HISTORY
Pickleball was invented as far back as 1965, in Washington. In fact, three dads found themselves in need of finding something to engage their kids for the summer. They decided to use handmade equipment for their own game, ruled by the set of elementary guidelines coming from the sports of badminton, tennis and ping-pong. They used just what they had on hand for playing the original game. But they managed it anyway, by simply putting a tennis net on the badminton court and using rather trivial objects – a wiffle ball with ping-pong paddles. That's all!
CASE #2 – SETUP & GAMEPLAY
You can play it indoors or outdoors. A common tennis court adapted for pickleball is using double badminton dimensions with a reworked tennis net. The rest of equipment is a paddle with a wiffle ball, i.e. round plastic sphere comparable to the tennis ball, but with holes in it. Unlike tennis; however, the pickleball court should be smaller, with a standard length of 44` and width coming to 20`. No matter what type of gameplay you prefer – single or double – there is a single standard court size fitting both. Here is one of the most attractive things about pickleball – it's suitable for people of all ages, as well as those fit or obeise, that's why it can be picked up by almost everyone, including the handicapped. While a great workout, the sport is also a lot of fun at the same time. Pickleball can be easily turned into a really challenging sport! While learning how to play only takes minutes, you will have to spend years to master the game.
CASE #3 – PRO LEAGUE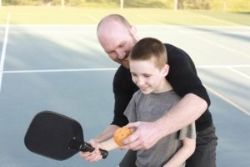 The sport has recently developed its own professional league for competition, even despite being originally designed for all skill levels and any ages. Existing area of expert pickleball means there are a lot of enthusiasts and pros willing and ready to take part in the national tournaments held in America annually, or even join the international competition across the globe. In order to keep the highest quality standards of the coaching community, the United States created the International Association for Professional Pickleball Teaching. Being motivated by the sport still gaining popularity worldwide, a group of countries, such as the United States, the UK, Canada, France, Spain, and India became the co-founders for the International Federation of Pickleball (IFP). Having over 15,000 courts available to play on, the sport is governed by the special national body a.k.a. the US Pickleball Association (USAPA). As of 2016, there were about 2.5 million active players in the USA registered by the Sports and Fitness Industry Association (SFIA). Moreover, being a fine adaptive sport, advancing popularity of pickleball benefits from a special attention by many other national foundations, particularly in terms of wheelchair adjustment. Owing to various official modifications, pickleball is appreciated by all – both standing, and handicapped people, playing either on the same side, or in mixed and even opposing teams. And it's always easy to shape a mixed team, as the sports trendy fame extends to all genders. For example, in the USA pickleball is followed by 53% of male and 47% of female players (data based on the official statistics).
CASE #4 – FUN AND TRENDY FACTS
Pickleball got the first permanent court constructed as far back as 1967, with its international tournament originally held in 1976, and the most recent Open Pickleball Championship (US) finally brought to the annual schedule in 2016. The sport is now gaining more and more fans and spectators worldwide, who are following its rapidly growing popularity in the United States. And the modern community pickleball is represented by the US Channel broadcasting the official matches and providing support for players, who want to improve their gaming skills. In addition, many schools in the US have recently started teaching pickleball within their physical education classes for all ages.
CASE #5 – HOW TO MAKE YOUR TENNIS COURT SUITABLE FOR PICKLEBALL
All you need is a proper know-how vision to get your current tennis court split into some courts for pickleball (temporarily or not – it's up to you to decide) and just start playing! As the leading
pavement
contractor, Mid Atlantic Asphalt is often asked how to transform or paint an area for pickleball based on your tennis court. If you are thinking about an addition to your outdoor site for recreation, all you need is to get is expert advice, particularly when choosing the right location and surface options. To minimize your costs and efforts, let's observe the most effective solution to combine your tennis area with four new pickleball courts. That would be perfectly suitable, if you got a standard tennis pad of 120` length and 60` width, because the most preferable size of pickleball court is 60` length and 30` width. Thus, a new court for pickleball should take exactly ¼ the actual dimensions of your tennis court. However, if your existing area has angled corners, then 2 courts for pickleball are certainly more preferable. In that case your current tennis net can be used as a backdrop separating your 2 new courts for pickleball. And don't forget that the fresh blended lines for pickleball are to coincide with the existing ones as much as possible. At the same time, it's vital to take a special care of the elderly people, who are now playing pickleball more frequently. Consider adding a cushioned surface by putting rubberized acrylic layers (SportMasters ProCushion) for shock absorption, a more comfortable player experience, which will reduce risk of injury. The expert installers at Mid Atlantic Asphalt have the widest range of custom solutions, starting from the most budget-friendly measures (e.g. adding new pickleball lines and a temporary net), to comprehensive work for a permanent court. To achieve the best results, we recommend annual maintenance as by coating and repairing surface damage before doing a fresh coating or painting to transform your existing tennis area into a brand-new pickleball court. Contact us and get a qualified survey with a customized estimate free of charge!
(410) 999-1263