CONSTRUCTION OF THE HIGH-END TENNIS COURTS FOR SEAMLESS MATCHES
In tennis, when it comes to rhythm, speed, endurance, and reaction timing, the rectangular court position and coating may be crucial to the unprecedented players' success. Feeling the sustainable extra-tough surface under the feet, predicting a bouncing ball behavior, anticipating opponent's tactic effortlessly, avoiding fatiguing sunlight, all these and much more is possible on the well-designed and ultimately constructed court. A successful tennis court resembles an island where the tennis devotees enjoy each set to the fullest. Typically, constructing a tennis court involves significant expenses, the long-term investments, and sustainable professional guidance. In fact, the contractor's experience may directly impact an outcome. So, special care should be taken to choose experts who can guide the construction process all the way from A to Z. Most importantly, the professionals should clarify all the local requirements and regulations related to the setbacks, direction, lighting, soils, and drainage. This article will provide you with the low-down on the critical areas of the tennis court construction, as well as the review of the most popular court surface.
COURT PLACEMENT DECISIONS: KEY FACTORS
Whether you are planning to build a customized tennis court for a stadium complex, private estate, tennis club, or recreation area, you should take into consideration several factors.
DIMENSIONS AND SETBACKS
Ideal fence line shall be 120 feet long and 60 feet wide. As indicated in the Rules of Tennis from International Tennis Federation, playing area is 78 x 36 feet for doubles and 78 x 27 feet for singles tennis courts. Keep it in mind that all structures including tennis courts should be constructed in compliance with setback requirements specifically established for each jurisdiction. Contact your local planning authority to check these regulations. In most cases, the minimum setback from any property line is 50 feet.
ORIENTATION AND FENCING
The direction of an outdoor tennis court is an important criterion for several reasons. The angle of the sun's rays in the mornings and afternoons - the 'hot' time for players, shadows from nearby trees and buildings, prevailing winds at various weather conditions can impact the tennis match dramatically. Indeed, all these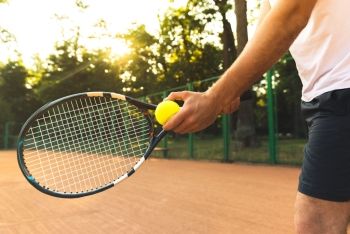 potential obstructions need to be considered to ensure the flawless layout. Typically, a north-south orientation is adopted for minimizing unfavorable effects of the sun. Fencing prevents the ball from suddenly leaving the playing area. On top of that, it accomplishes a security purpose. The 1-3/4", #8 gauge, tennis court specific, chain link fabric fence is the most popular and cost-effective option. Light shall freely pass through it and spectators can watch the game with no hassle. Posts should be set footers, which should be 4,000 PSI concrete and 12" wide x 36" deep. Choose the powder coated material without protrusions to avoid both damage and risk of injury.
TERRAIN AND EARTHWORKS
Fairly level ground with stable soil is just like a magic stone of wisdom of ancient philosophers. Sounds perfect, but the reality is still full of surprises. Steep canyons, mounds, gullies or hills with quite unstable soil that contains vegetation are a true challenge. However, nowadays innovative construction techniques and cutting-edge equipment allow you to build a fantastic court anywhere you want. Vertiginous canyons, hillsides, and slopes can be cut back or leveled to the ground. Everything depends on the skills of your contractor's team and the cost you are willing to pay. A top-rated tennis court contractor in cooperation with highly experienced soil and engineering experts can achieve great results in every aspect of the construction plan, including excavation, piers and retaining wall construction as well as in raising the levels of every part of the site within your future tennis court.
A WELL-PLANNED VIEWING AND ENTERTAINMENT AREA
A comfortable viewing area shall be approximately 20 feet long and 10 feet wide. Usually, this area is slightly higher than the court surface and shaded by canvas awnings or pine trellis. The viewing area may include such additional amenities as a water source, phone jack, refrigerator, and even TV. Thus, your family and guests can enjoy the game and refreshments, talk to each other, discuss the hottest moments of the game, or watch the video of epic tennis matches.
SURFACE DRAINAGE
You need to identify the scope of work before your rectangular island is built. Poorly designed tennis court and the improper drainage system can zero out your investments, efforts, and dreams about an attractive and durable facility where players and spectators keep returning constantly. It is vital to avoid construction at the site that can potentially cause the drainage issues. If the choice is limited, then the advanced technologies will help out again. You can eliminate the free or standing water under the court by applying open drains on the ends of your court (carry water to the outlet area), closed drains, channel drains or combination system. To select the proper system for your facility, you need to consult with a qualified engineer or experienced contractor.
A "ROOT WALL" INSTALLATION
Building the court at the site free of trees is the best solution. The movement of the tree roots poses the maintenance issues for the facility owners. Most importantly, disturbance of the ground, falling leaves, and hanging branches hurt the chances of seamless performance. In case you have to construct in proximity to the garden or park, a root wall will help you to prevent the nature's intervention into the tennis court surroundings.
A BUILDING PERMIT AND LIGHTING APPROVALS
First, you need to get approvals related to the type of facility and place for construction from your local planning department. Next, the building department considers the design and construction methods suggested by your contractor, and if everyone is happy, you will get the required permits and approvals. When it comes to court lighting, obtaining a permit is not as easy as it might sounds. The authority may not approve lighting for a private tennis court since it can affect the neighborhood's amenity. So, if you are planning a night play at your facility, try to handle the permitting as soon as possible.
A CONGENIAL SOLUTION FOR THE COURT SURFACE
BUILDING HARD TENNIS COURTS
Ever wondered why famous tournaments in the world, including the Australian and U.S. Opens, take place on the hard Court surfaces? Indeed, sport courts with asphalt pavements and an acrylic coating system make up the majority of courts in the USA. Despite the fact that hard surface is as old as the hills, it is still growing in popularity, and we'll tell you why. sport courts are designed to provide tennis players with top-grade performance and safety for competition and training. Whether you strive to implement an all-weather, easy-to-maintain, and wallet-friendly solution for a home or professional tennis court, asphalt sport courts may be the answer. The standard hard court structure includes the foundation layer of asphalt, mid-layers filled with rubber granules, and a top coating made from an acrylic sand mixture. To the untrained eye, there is nothing out of the extraordinary about court construction. However, building these facilities requires time investments and accurate soil analysis that only experienced and knowledgeable contractors can conduct.
SKILLS REQUIRED FOR CONSTRUCTING AN ASPHALT COURT
If you wish to construct an ideal tennis court, you should hire only a professional contractor with a qualified crew. Otherwise, your dream court will become a long-term fiction with your budget vanishing like the dew melts under the heat of the sun.
Tennis court installation experience
This expertise is required. For instance, contractors that specialize in tennis court installation know that the size of the aggregate rock used in asphalt impacts your court durability and crack resistance. That's why we choose the aggregate of a larger size, like 19mm, to make the asphalt stronger and prevent cracking risks in the future. In addition, an 8-10 ton roller, with a vibratory compactor, must be used to ensure a 100% compaction rate, which should be tested and verified with a nuclear density gauge. Most parking lot paving companies won't mess with paving sport courts; however, some will "try". Be careful, this one mistake could ruin your hard court and your budget. A court slope should not be less than .83% (1:120) and not more than 1% (1:100). Each court must slope on a true plane, preferably from side-to-side. The court should never slope from the netline to the baseline, from the baseline to the netline, from the sides to the centerline, or from the centerline to the sides.
LOOKING FOR AN ULTIMATE CONTRACTOR? SEARCH NO FURTHER!
Whether you keep your project in mind or on paper, we would be happy to give you a hand. We specialize in hard court surface construction, resurfacing, and maintenance in Maryland, Washington D.C. and Delaware. Our durable and versatile surfaces are used on both professional and home tennis courts and enjoy a reputation for reliability and high-caliber performance. Don't hesitate to drop us a line. Let's invest in your tennis dream together. Contact us at (410) 999-1263.